New Year motivation
Horse & Hound|January 02, 2020
New Year motivation
LAURA TOMLINSON
OLYMPIC DRESSAGE RIDER
IN THE SADDLE: "My horses all have 10 easy days while I'm away over Christmas and New Year. I lower the high-energy side of their food over that time but they'll still be exercised, whether it's on the lunge or hacked out, to give them a leg stretch. But it will be a mental and physical break from hard work.
"Obviously when I come back, I won't expect to go through the grand prix on the first day with them. Some take me a little bit longer to get supple again, and others cope really well.
"In the winter, the routine would generally be that the horses work five days a week in the school in the morning — sometimes it is focused on movement, and some days it is more gymnastic-type work over the back. On top of that, we vary what we do in the afternoons with them. So, one day they'll do polework, one day they'll go hacking and another they will be lunged.
"We've had a water treadmill installed at my new place so they'll also be doing that three times a week in the afternoon as well.
"My routine does vary a bit between my horses. My stallion Duval's Capri Sonne Jr quite enjoys a jump as well as working over poles, whereas I'd be a bit nervous of jumping my mare Rose Of Bavaria for the fun of it — she hasn't done it before and she's very big.
"We can't turn out here at the moment, so in the middle and at the end of the week when I don't school them, they'll go hacking.
"I'm spoilt because I have a lovely, big indoor school so I don't have to slog it out outside to do my actual training, which makes a big difference."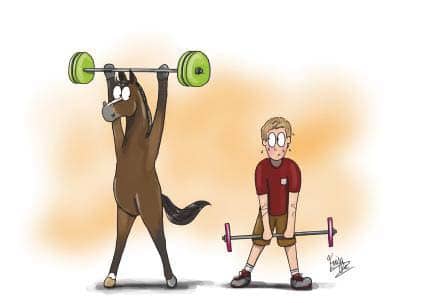 OUT OF THE SADDLE: "I used to be someone who would overindulge at Christmas, but I've just been seeing a great physio because I had quite a lot of disc issues, and he's put me ona diet to stop me eating inflammatory foods.
"I go to the gym twice a week through the winter, where I have a personal trainer, and my programme is run by the physio. I have specific exercises I do to try to stabilise my lower back and help with the disc issues."
OLIVER HOOD
HOYS SUPREME-WINNING SHOWING PRODUCER
IN THE SADDLE: "By January the horses have had their break out in the field after Horse of the Year Show [HOYS] in October, when they have a chance to unwind and let their bodies down. They'll then start coming back in and walking for a few weeks out on the roads every day. It's all really gentle stuff.
"From there, we'll build up with some faster work along the tracks — we're really lucky around here that we have plenty of quiet hacking, although being in Norfolk means there are no hills.
You can read upto 3 premium stories before you subscribe to Magzter GOLD
Log-in, if you are already a subscriber
Get unlimited access to thousands of curated premium stories and 5,000+ magazines
READ THE ENTIRE ISSUE
January 02, 2020