It's all about the hounds
Horse & Hound|May 28, 2020
A dedicated whipper-in, working quietly with the hounds and supporting the huntsman, is pivotal to good sport on a hunting day, explains Tessa Waugh
PEOPLE hunt for all kinds of reasons, but how many go out with the sole purpose of focusing on the hounds? How many are there in the general hunting community for whom horses, fences, socialising and all the extraneous aspects of the sport are merely white noise?
Amateur whippers-in are a breed apart, enjoying as much involvement as they can with the hounds without actually hunting them. They relish the opportunity to take an active part in the day, accepting that it takes a level of commitment above the norm.
Many of them are appalled by the thought of hunting in the field – far too noisy, you can't hear or see what's going on – and happily confess that they would stop hunting altogether if that was all that was available to them.
"I would have been quite wealthy if I hadn't hunted," laughs John Cranage, who has been amateur whipper-in at the Sinnington for 30 seasons, whipping-in to a total of seven huntsmen. Unlike many, John has done the job professionally, when he was first whipper-in at the Cambridgeshire for two seasons as a young man.
"Having worked as a professional, I see my position as a serious job," he reflects. "And I try to achieve that standard."
What is it that makes him turn out twice a week, every week all through the winter?
"I go to help produce a day's sport, the enjoyment of watching the hounds, the puppies progressing. The older ones that can still hold the line when the others are struggling. You're going to see that when you whip-in and that doesn't change now that we are trail-hunting."
Like so many who do this job, all the other aspects of a day's hunting pale into insignificance.
John reports, "When I get home, my wife Jane will say, 'Who was out and did you see so and so?' But I don't look, I might see two people in passing but basically you're oblivious to everything but the hounds."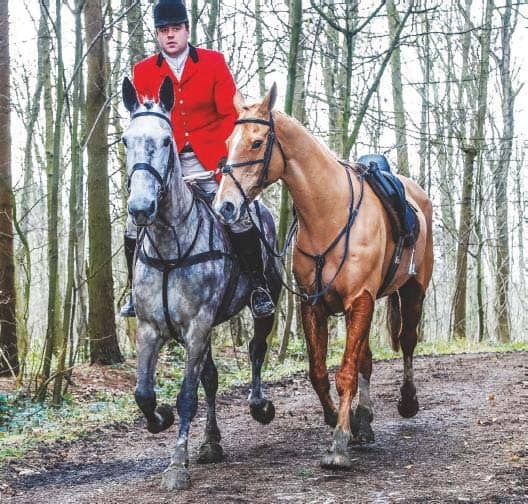 "I WAS PROBABLY MORE OF A NUISANCE"
HOLLY WYBERGH may not have been doing the job as long as John, but her view is the same; hunting would not be hunting if she wasn't whipping-in. She grew up hunting with the Cumberland Farmers when her father, Peter, was master.
"I always whipped-in to Dad," she says. "I remember having my 13hh pony up on the lorry with him. I was probably more of a nuisance to begin with."
Holly's father gave up the mastership when Holly left home to go to university and they both went to hunt with the Coniston. It was at a joint-meet with the Teme Valley in the latter's country that Holly remembers seeing a Cumberland Farmers' bitch that had been drafted there.
You can read up to 3 premium stories before you subscribe to Magzter GOLD
Log in, if you are already a subscriber
Get unlimited access to thousands of curated premium stories and 5,000+ magazines
READ THE ENTIRE ISSUE
May 28, 2020