How Easy Is It To Make Your And Your Horse's Lifestyle More Sustainable?
Horse & Hound|January 16, 2020
How easy is it to make your and your horse's lifestyle more sustainable? Helen Scott investigates the growing number of ways you can go green this year
Trips to the farmers' market where you can buy ethically produced, healthy, local produce, which has low food miles, was one of the things that inspired Hermione Perry to set up her own animal feed company.
"Devon is already renowned in the food industry for the huge array of locally produced, quality and speciality foods for humans, so we felt it was about time our animals also benefited from this," said Hermione, who worked in equine supplements for industry leaders for 19 years. She set up the online Little Feed Company and now supplies a range of feed products for horses, dogs, and chickens, which is in recyclable, sustainable packaging and made only with natural ingredients.
"I am in a unique position — scientifically qualified with huge commercial experience but with first-hand experience of the joys and trials of owning animals. Like any owner, I have had my fair share of vet bills and experience of laminitis, sweet itch, box rest, azoturia and so on. You name it, and one of my horses has probably had it.
"I want to focus on the fundamental aspects of animal ownership — providing our horses, pets, and animals with top-quality, natural nutrition, helping them to regain some balance and lead a happy, healthy life in a world which is far different from the one they evolved for. My customer base is growing every month."
While Hermione's business is still small, there are signs major feed companies are evolving their businesses to become more sustainable, too.
"Owners want to do the best for their horses, and I am beginning to see sustainability coming into that equation when I advise people," explains independent equine nutritionist Donna Case. "There are lots of things to consider around how feed is produced, particularly if you are competing under rules, so it pays to do your research and take advice.
"Packaging is also a challenge as producers want to keep their feed in the best conditions, but I'm seeing change there too."
Richard Anderson, managing director at Dodson & Horrell says: "We are constantly striving to reduce, reuse or recycle where possible, and are proud that almost two-thirds of our products use recyclable packaging."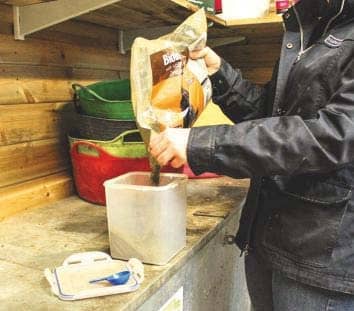 Consumers can find the recycling information on Dodson & Horrell packaging.
Saracen's feed sacks are 100% recyclable and the company is soon to be introducing recycling information on every bag.
"All our feed bags can go into normal domestic recycling," explains Stephanie George, Saracen's sustainability champion. "We're now working on updating our supplement packaging, plus our Munchies treats are now in tubs made of recycled plastic, which can be recycled again locally. We'll be following with our other supplements."
You can read upto 3 premium stories before you subscribe to Magzter GOLD
Log-in, if you are already a subscriber
Get unlimited access to thousands of curated premium stories and 5,000+ magazines
READ THE ENTIRE ISSUE
January 16, 2020