HUNTING 'That bond is a brilliant thing'
Horse & Hound|January 02, 2020
HUNTING 'That bond is a brilliant thing'
THE sight of a very small person, cocooned in a body protector and attached to a lead-rein and clucking mother, "Just kick on, darling, and you'll be over it in a blink!" is a familiar one to all hunt followers, especially over the Christmas holidays.
Less common are the parents who've come to hunting following their children's lead, through intrigue, protectiveness, or — in the case of Jason Kelly — jealousy.
A father of four girls, three of whom have succumbed properly to the pony bug, Jason asked a friend one day if he would accompany his elder daughter Akysha in the pairs class at her first hunter trial.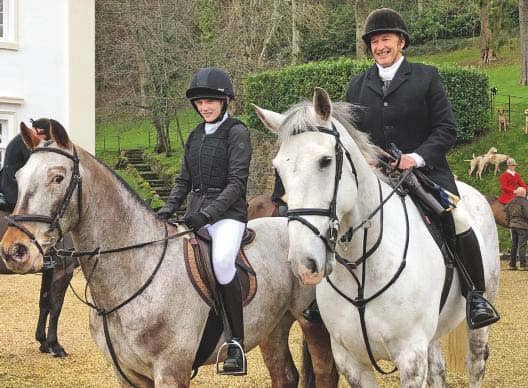 "They both came back beaming,' remembers Jason, "and I thought, 'Right! In a year's time I'm going to do the pairs class with her and have that bond myself,"
When Akysha turned to hunting soon afterwards, Jason fast-tracked his plans. With only 12 rides under his belt, but many hours observing his daughters' lessons, he found himself a little cob and joined her at the children's meet of the Bray Harriers in Wicklow: "We had an absolute ball, and I've barely missed a hunt since."
Riding lessons soon snowballed into a pony, stable, arena, more stables, and more occupants for them.
"We have one of those doors to our yard that only opens one way, laughs Jason, who has now amassed 10 horses and ponies. "There are times I've had three of my daughters out hunting, and it's a wonderful, full day out, seeing your child excited about something, being part of it, analysing the best fences and so forth on the way home."
Curiously, Jason's wife isn't horsey at all: "It's a bit of role reversal," he agrees. "Normally it's the dads who are in short supply at showjumping shows."
A former Irish motocross champion and self-confessed petrol-head, Jason confesses that naivety coupled with general fearlessness have served him well in his hunting.
"T never look at the ground thinking, 'Where am I going to fall?" he laughs. "I think I only came off once in my first season... it became a bit of a running joke."
With only two years of riding under his belt he even tackled the famous Golden Button.
You can read upto 3 premium stories before you subscribe to Magzter GOLD
Log-in, if you are already a subscriber
Get unlimited access to thousands of curated premium stories and 5,000+ magazines
READ THE ENTIRE ISSUE
January 02, 2020