Dream teams
Horse & Hound|July 02, 2020
Many of the world's best riders in all disciplines cut their teeth at the Pony Club Championships. Catherine Austen discovers some of their memories and the lessons they learnt
IF you said the words Stoneleigh, Weston Park, Sansaw, Shelford and Cholmondeley, thousands of adults across half a century of generations would know what you meant. When they were horse-mad teenagers, those were the locations of the Pony Club Championships of their era. While for many those heady weeks were the acme of their equestrian careers, they were also an early testing ground for many of the regular stars of this magazine.
"It was everything!" says Laura Collett, who first represented the Heythrop branch of the Pony Club at the championships as a 13-year-old in 2003. "The areas were such a cool thing, and to qualify for the championships was just amazing. I remember the cross-country course being ginormous. I didn't know how to get my pony [Noble Springbok] on the bit, but I did jump a double clear."
In 2004 and 2005, she won her eventing section on the Lucey family's highly experienced Walnut, who took a series of children safely round the championships. In one of those years, the Heythrop team, consisting of Laura, Ginny Howe, Simon Lucey and Sophie Kirkpatrick, also won.
"I learnt so much about teams – how to be a team player, team morale – and it was so much fun," Laura remembers. "It was a really big deal, and it was at Sansaw the first time I went that our district commissioner, Celia Plunkett, introduced me to Ginnie Keen, who was the pony chef d'equipe at the time. I went straight into pony trials the following spring because I'd had enough experience at Pony Club level not to need to do BE100s or anything."
Celia also rather rashly promised Laura and her team-mates during team training at Pony Club camp that, if they won the championships, she would organise two days' training for them with her son-in-law, William Fox-Pitt.
"Clearly she didn't think we would win," says Laura. "But we did, she kept her promise and I rode Stunning and Moon Man."
MATTHEW WRIGHT was another event rider to make their championship debut very young. Aged 12, on his six-year-old pony Con, he was part of the winning Grove Hunt team in 1995 and finished second in his section. The following year, he won individually.
"I hadn't done pony trials or anything like that at that stage – the pony and I were as ignorant as each other," he says. "It was at Weston Park; there were 115 starters and just 29 went clear. I remember it like yesterday. The Grove hadn't qualified for years and it was a really big deal."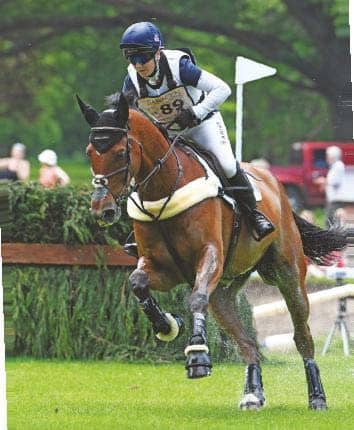 One year Matthew won the horsemanship award for both the eventing and the showjumping championships, and his prize was a week's training with Peter Robeson.
"It was the best week of my life," he says.
You can read up to 3 premium stories before you subscribe to Magzter GOLD
Log in, if you are already a subscriber
Get unlimited access to thousands of curated premium stories and 5,000+ magazines
READ THE ENTIRE ISSUE
July 02, 2020