Could you rehome a rescue horse?
Horse & Hound|May 28, 2020
With Britain's equine welfare charities full to capacity, finding the right home for their residents has never been so important. Madeleine Silver finds out what it takes to rehome a rescue horse – and how to make a success of it
"WHEN you tell some people that you're getting a rescue horse they say: 'Oh my God, you're mad.' Of course, there is a risk – but there is with any new horse," says freelance groom Anna Coutin, who took the plunge with her coloured mare, Iris, in 2018.
When Iris arrived at the Blue Cross' Staffordshire rehoming centre in 2016, she had been rescued as part of a large welfare lift from a horse hoarder. She was emaciated with a body score of 1.5, had lice and was riddled with worms. Fast-forward three years and by 2019 Anna was competing in dressage, enjoying sponsored rides and had completed a one-day event with the mare.
It's the kind of equine rags-to-riches story that charities rely on to make people think twice before buying their next horse from a private home. But of course, there have been bumps in the road.
"The most challenging bit has been backing her," says Anna. "I nearly gave up – she was just a nightmare and very defensive. But I think that all came from her past, so you can't blame her. You do need a lot of patience to take on a rescue horse – you have to put your all into it. And thinking what we've achieved, it's 100% the most rewarding thing I've ever done."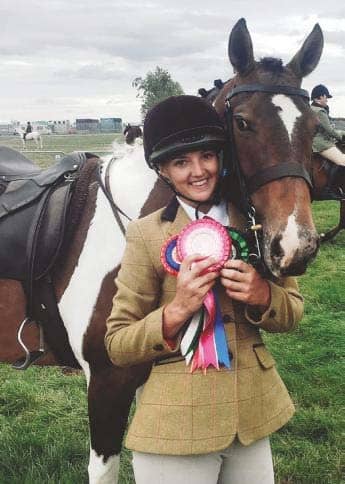 PAIRING horses with the right home is top of the agenda for rescue centres in their quest for success stories like Iris and Anna's.
You can read up to 3 premium stories before you subscribe to Magzter GOLD
Log in, if you are already a subscriber
Get unlimited access to thousands of curated premium stories and 5,000+ magazines
READ THE ENTIRE ISSUE
May 28, 2020