Breeding the best
Horse & Hound|May 28, 2020
Rebecca Jordan charts the story of Cattistock Devious's first litter of puppies, from conception to going out to walk
HERE'S a wager for you. Following either an exceptionally difficult day's hunting or one in which the adrenaline still soars through the bloodstream long after hounds and horses are loaded, every huntsman will be thinking about one thing: breeding.
This does not refer to their own potential. Some huntsmen's wives might suggest more effort goes into researching a prospective husband for their best bitch than for the couple's own daughter.
Huntsmen who are consumed by hunting study hound pedigrees with fierce academic application. They travel miles to watch a potential stallion hound at work.
It costs nothing to dream of breeding a future Peterborough champion. But that hound is no good if unsuited to its hunting country. Good conformation equates with longevity, but each country requires a different stamp of hound.
The Cattistock in Dorset needs an athletic hound in a landscape ranging from deep vale with thick hedges to steep, chalky hills studded with flint to the unique and exposed coastal setting of Abbotsbury.
A fashionable country like this also requires a close-knit pack of hounds alert to Will Bryer, their amateur huntsman, who must keep them moving to entertain the large field close behind. And youth is paramount.
"Young hounds breed healthier and stronger litters than an old hound. A third-season bitch is ideal because she will already display a strong indication of future capabilities," explains kennel-huntsman George Pierce, who has now moved to hunt the neighbouring Blackmore and Sparkford Vale. "And a young bitch tends to have more milk and is usually better tempered."
Performance on the hunting field is obviously crucial. Will, like his peers, is not interested in breeding from a hound which stands out from the pack in its first season.
"I want to use a hound that improves steadily through its early career," explains Will. "Young hounds excelling and catching the eye in the first season might well impress their puppy walkers, but usually end up with bad habits later.
"Instead, I am interested in a hound's family history to see how that line matured into its work and how siblings compared. If the mother and grandmother produced consistently level litters and are good in their work, it is likely we should see the same again in their progeny."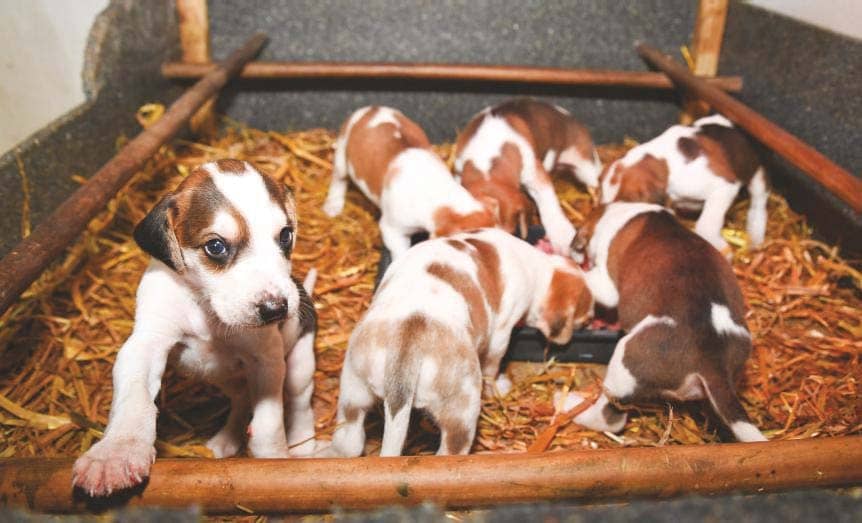 AN IDEAL MATCH
DEVIOUS 18 proved to be a diligent contender from a very good litter, so was an easy choice from which to breed.
"When entered in 2018, she demonstrated keenness and athleticism without acquiring too much attention," says Will who, in the past, has also bred from Devious's mother Granary 15 and grandmother Drizzle 11, who were bred by former huntsmen Charlie Watts and Alastair Jackson. In fact, this female line can be traced back to the hunt's inception through one of Lord Poltimore's foundation bitches, Sanguine 1869.
You can read up to 3 premium stories before you subscribe to Magzter GOLD
Log in, if you are already a subscriber
Get unlimited access to thousands of curated premium stories and 5,000+ magazines
READ THE ENTIRE ISSUE
May 28, 2020