An International Flavour
Horse & Hound|July 02, 2020
Judging hounds overseas provides an invaluable opportunity to appreciate and learn from our hunting cousins worldwide, says Frank Houghton Brown
Puppy shows and hound shows, together with all the associated pomp and circumstance, are a very British tradition, one would think. Or are they? In fact, most people who have a love for their hounds also want to show them off, and this applies worldwide.
Captain Brian Fanshawe, a brilliant amateur huntsman and a much-respected judge of hounds, used to say that if he had his time again he would have hunted hounds in Australia. He eulogised about the rolling open grasslands near Melbourne that in many ways lend themselves to foxhunting as he knew it, without the pressures of overpopulation that we suffer within the UK.
Foxes are not native to Australia and were introduced in the 19th century especially for hunting. Likewise, the foxhound was an import from England, and Australian hunts still import hounds from Britain – and, more recently, from America – to freshen and improve bloodlines.
There is an Australian hound show, held near Melbourne at the Oaklands hunt kennels in October each year. There is usually an English judge officiating, but as October is not a good time for a busy MFH, the judge is usually chosen from the ranks of recently retired masters.
It's a huge honour to be chosen as a judge for one of the big hound shows in the UK, and to judge at Peterborough is considered by many to be the pinnacle of hound show judging. An invitation to judge in Australia is pretty special, with complimentary air fares and perhaps an Antipodean holiday added in to the trip.
Randall Cameron-Kennedy started the hound show in 1988, the centenary year of the Oaklands hunt. Immaculately dressed and with a neatly trimmed moustache, Randall is a brilliant organiser and is dedicated to foxhunting and the foxhound.
"The improvement in our hounds has been fantastic, both on the hunting field and in conformation," Randall says, and he puts much of this down to the hound show and the hounds that have recently been imported from Britain, which he views as "the home of foxhunting".
Randall's son Richard is now a master of the Oaklands. Richard has an encyclopaedic knowledge of hound pedigrees and spent one hunting season during a gap year whipping-in to the Middleton in North Yorkshire.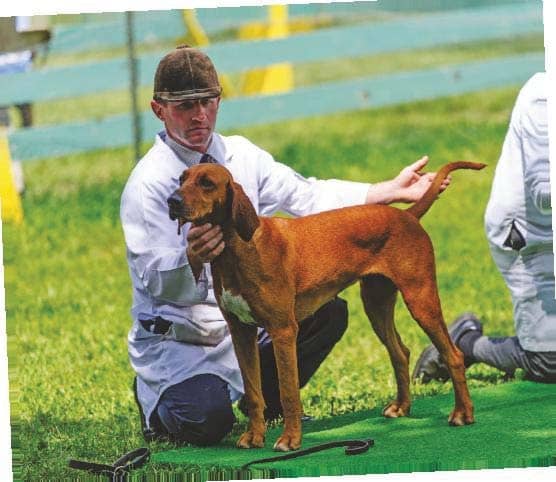 Many of the foremost English judges have been out to judge this show, such as Martin Scott, Captain Simon Clarke and Tim Easby. Hounds from the North Cotswold, the Duke of Beaufort's and, more recently, the Tynedale have been imported, and the showing is very much in the manner of English hound shows. There is a large courtyard at the back of the clubhouse where the single judge can officiate, and each hunt brings its own entourage of supporters to watch.
BEER AND SAUSAGES
You can read up to 3 premium stories before you subscribe to Magzter GOLD
Log in, if you are already a subscriber
Get unlimited access to thousands of curated premium stories and 5,000+ magazines
READ THE ENTIRE ISSUE
July 02, 2020