A Symbiotic Relationship
Horse & Hound|May 28, 2020
Each equestrian sport can benefit from the specialist expertise of another. Catherine Austen investigates the advantages of interaction between eventing and racing
If you placed racing and eventing in a Venn diagram, there would be some obvious shared characteristics: adrenaline, physical risk, equine athleticism. But the sports, despite descending from a shared heritage, are often poles apart – and that distance is increasing. Sam Watson, the Irish international event rider and co-founder of data company EquiRatings, thinks they would both benefit from learning from the other.
He is in a position to judge; not only does his work with EquiRatings mean that he looks at equestrianism, in all its forms, in an analytical way, but he is also a big racing fan and has worked with horses – and riders – at some of the biggest yards in Ireland.
"Look at the improvement in performance in human athletics in the past few decades, and then at horse race times, which have stayed fairly static," Sam says.
"Some people believe that racehorses have evolved as far as they can; I don't think so. Human athletics has placed significant emphasis on strength and conditioning – racing hasn't, really, and that's where I think improvement in that sport could come from."
Something racing does brilliantly, he says, is getting horses fit, maintaining that fitness and managing performance, using stress and rest – knowing when to push and when to back off– and eventing could learn a lot from the way trainers do that.
"But what equestrian sports do really well is making horses strong and symmetrical, which gives them straightness, which makes them powerful and effective. Every day I watch races in which horses are hanging in a finish; if they were straighter through their bodies, they wouldn't do that. I don't think a lot of racehorses are as strong and supple as they could be."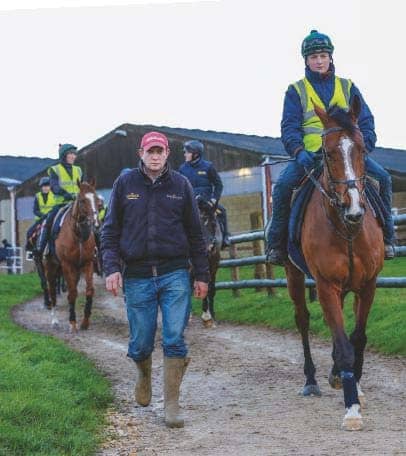 The intrinsic difference is that eventers train their horses from the saddle, and trainers (usually) from the ground. They have many more horses in their charge, and employ staff to exercise and work them. No one is saying that staff within the racing industry can't ride – many of them are outstanding horsemen – but the skills generally required are different to those developed by people who event.
From 2015 to 2017 Sam coached the multiple champion National Hunt trainer Willie Mullins' staff in flatwork.
"I was terrified the first time I turned up at Closutton [Willie's yard in Co Carlow]," remembers Sam. "It was Willie's idea, spurred on by his wife Jackie, who used to be an event rider. There were 40 horses cantering round a big sand arena. I asked which of them were going to be doing flatwork. He said all of them! Imagine teaching 40 people on 40 horses. Your communication has to be very clear and direct.
You can read up to 3 premium stories before you subscribe to Magzter GOLD
Log in, if you are already a subscriber
Get unlimited access to thousands of curated premium stories and 5,000+ magazines
READ THE ENTIRE ISSUE
May 28, 2020