The Young Horse: From Birth To Backing
Part 1: Birth To 4 Months
It is a wonderful time of year – summer is in the air and the foals are on their way – and whilst cuteness overload awaits, a lot of responsibility is about to land on those who have a mare ready to foal. Whatever the reasons for having a foal, it is ultimately our responsibility to equip our young partners to be able to successfully navigate our confusing human world with confidence.
PREPARATION
To give your foal the best start in life, you must consider all of the 'duties' that they will be expected to perform later in life. Consider a young child; as a parent, you want your child to do well, and excel. Yet, we all know that we cannot expect a young child to understand grammar or high-level mathematics. First, the child has to learn how to hold their pencil and then form letters; later on, addition and multiplication will feature in the curriculum; and finally, after many years, they are ready to move on to algebra, other languages, and more advanced maths. Let's compare this to our young horse; before we can ask for high-level movements (algebra), our young partner needs to understand the basics, such as how to control and use their bodies efficiently (the equivalent of holding a pencil).
No matter what discipline your foal is ultimately destined for, the basics are the same, and by equipping your youngster with knowledge and skills, you are giving him the best possible chance at a happy and hassle-free life. Starting the young horse doesn't happen overnight; it is a process that cannot be rushed or forced. As with children, each young horse must be seen as an individual, with his own strengths and weaknesses – try to remember this before you ask for too much, too soon, from your young partner.
THE LAST FEW MONTHS OF PREGNANCY
The last three to four months of a mare's pregnancy are critical to the overall health and wellbeing of the foal. Just as with human babies, foals grow at an incredible rate during the last trimester, and this can take its toll on their dam. A balanced diet is critical for the development of the foal. There are various 'broodmare mixes' available from most major food retailers. These are higher in protein and provide vitamins and minerals that the broodmare needs for the optimal development and health of her foal.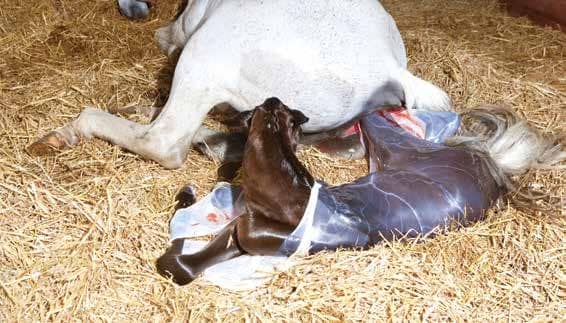 Having said this, it is equally important not to overfeed your mare during the final months of her pregnancy. Although it may be tempting to keep your mare 'fat and happy', added protein in the form of lucerne or concentrates, for example, can lead to the foal developing too much, too soon, which can cause problems during and after birth. Consider for a moment horses who live in the wild – as the days get longer, and as winter turns into spring, the mares start to come into season. After being covered by the stallion, they are pregnant for almost a year, which means that during the last stage of their pregnancy, wild mares would be consuming fibrerich, low-protein winter grass and not lovely green lucerne. Foals are then generally born in the spring, as the tufts of new grass are coming through. Protein content is then gradually increased as the grasses flourish after the summer rain.
Should you have any doubts about feed or supplements for your broodmare, contact your vet or equine nutritionist for advice. This is a complicated topic – so don't be afraid to ask for help!
PLANNING FOR BIRTH
You can read upto 3 premium stories before you subscribe to Magzter GOLD
Log-in, if you are already a subscriber
Get unlimited access to thousands of curated premium stories and 5,000+ magazines
READ THE ENTIRE ISSUE
October/November 2019