The Orphaned Foal
Nutrition issues
No matter if you are a small, private breeder or a larger, commercial farm, at some point, it is likely that you will need to deal with an orphan foal. A foal may be orphaned due to the death of the mare, or due to various illnesses that can affect the mare, and that may lead to her having to be separated for health reasons. Whatever the reason, dealing with an orphan foal can be hugely challenging.
Although studies have shown that during the first three months orphaned foals can be at a disadvantage compared to those who have not experienced such trauma, it has been found that with careful management and adjustment to their overall diet, orphaned foals can ultimately reach their full potential.
COLOSTRUM
While foals are born with an intact immune system, they are not born with any circulating antibodies that can fight infection. In humans, when babies are born, they already have antibodies that have been derived from the mother's bloodstream. The same does not happen in horses. This leaves the foal open to infection from the environment if colostrum is not received. This is why colostrum, the first milk from the mother that contains all of the antibodies, is so important.
Colostrum is an extremely important element in ensuring a successful outcome for orphaned foals. They will experience a large amount of stress during their early life, and as with all foals, colostrum is vital for ensuring they receive plenty of antibodies for a strong immune system. The foal must drink and absorb colostrum within the first 12 to 24 hours of life (ideally within the first eight hours), as, during this period, the gastrointestinal tract is able to absorb the most immunoglobulins (antibodies).
If the mare is alive and still able to nurse the foal, then this should be done, even if they are separated shortly afterwards. If this is not possible, then a foster mare (who is producing colostrum) should be used. If the mare has passed away and there isn't a foster mare available, hand-milking the mare can provide the foal with that vital colostrum, even if it's just a small amount – a tiny bit is better than nothing. Your vet will be able to advise whether this will be possible or not in your particular case. Some of the larger breeding farms and reproductive vets also from time to time freeze colostrum, and it could be an option to contact those in your area to see if anyone has any available.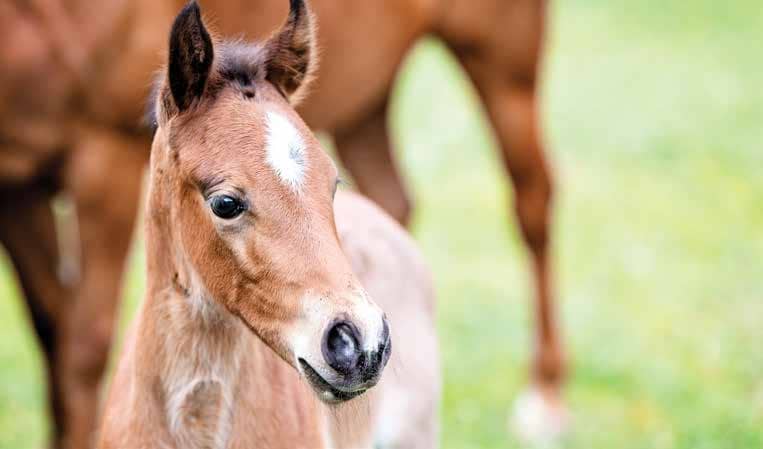 FOSTER/NURSE MARES
You can read upto 3 premium stories before you subscribe to Magzter GOLD
Log-in, if you are already a subscriber
Get unlimited access to thousands of curated premium stories and 5,000+ magazines
READ THE ENTIRE ISSUE
October/November 2019