Extending Artificial Insemination To Beef Cattle
Farmer's Weekly
|
February 1, 2019
One of the reproductive tools for the beef industry discussed in depth at the 10th annual Aldam Stockman School last year was the use of fixed-time artificial insemination. Sabrina Dean explores the concept as explained by three international speakers at the event.
Professors Reuben Mapletoft, Cliff Lamb and Michael McGowan all agree on one thing: fixed-time artificial insemination (FTAI) is an invaluable tool to help beef cattle farmers manage production and boost profitability.
FTAI is readily available to the beef industry. What all three speakers find strange, though, is that despite evidence of its potential, uptake of FTAI by beef cattle farmers remains slow in many parts of the world.
WHAT IS FTAI?
As the name implies, FTAI relates to the timing of artificial insemination (AI). The method makes use of oestrus synchronisation to artificially inseminate cattle at a set time.
Lamb, from the Department of Animal Science at Texas A&M University in the US, says that FTAI can assist in optimising management and improving efficiencies, and can even enable greater weaning percentages and weights.
He explains that the most important benchmark in a beef operation is the percentage of heifers that achieve an early first calving.
"Those females which became pregnant in the first 21 days of their first breeding season produced on average 0,75 more calves over their lifespan than heifers that only became pregnant later," he says.
Mapletoft, of the Department of Large Animal Sciences at the University of Saskatchewan, Canada, says accurate oestrus detection remains one of the biggest impediments to success with AI.
According to Lamb, research shows that up to 20% of cows are mistakenly detected as being on heat when they are not, with oestrus detection rates in the dairy industry often lower than 40%.
"In other words, if you go and check oestrus and the cows are all cycling, you'll probably pick up only about 40% of those that are on heat."
He adds that with FTAI, the aim is to ultimately achieve synchronised cycling in a herd, but all animals are inseminated whether oestrus is detected or not, thus eliminating oestrus detection efficiency as a possible contributor to reduced pregnancy rates.
Mapletoft emphasises, however, that the ultimate success of oestrus synchronisation and FTAI programmes centres on the concept of controlling follicular wave dynamics and ovulation.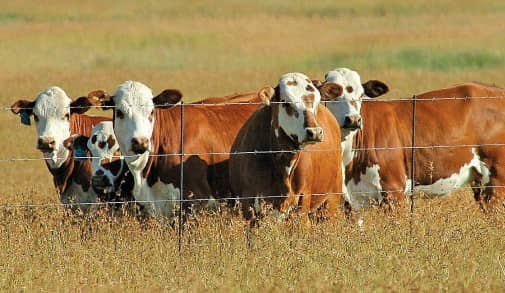 He explains that FTAI requires synchronous growth of a dominant follicle coupled with synchronous ovulation at a predetermined time. This is done with hormone treatments such as estradiol (which synchronises growth of a new ovulatory follicle and then ovulation) and a progestin device (which extends the luteal phase of the oestrous cycle).
Another option is the gonadotropin-releasing hormone (GnRH)/porcine luteinising hormone (PLH), which can also be used to synchronise growth of a new ovulatory follicle and subsequently the timing of ovulation.
All the speakers highlight that many other factors can affect the success of an FTAI programme, including the body condition of the cows, effective pre-synchronisation planning, nutrition and management.
You can read up to 3 premium stories before you subscribe to Magzter GOLD
Log in, if you are already a subscriber
Get unlimited access to thousands of curated premium stories, newspapers and 5,000+ magazines
READ THE ENTIRE ISSUE
February 1, 2019