Dwarf Avocado Cultivars: Dynamite In Small Packages
Farmer's Weekly
|
June 7, 2019
As fruit farmers are pushed to produce more with less, so the trend towards dwarf trees has gained momentum. Dwarf avocado trees offer the benefits of a compact orchard and savings in labour and production costs. Lindi Botha spoke to farm manager Simon Dunshea in Mpumalanga.
With rising input costs and increasingly limited resources, many fruit producers are constantly looking for ways to increase yield in their orchards.
Simon Dunshea, the farm manager of Twycross farm in Schagen, Mpumalanga, had this in mind when the first dwarf variety of avocados were planted on the farm.
"My ultimate goal is to have a high-production orchard, with smaller trees planted at a higher density and giving higher tonnage per hectare," he says.
Dunshea cultivates 125ha of avocados on the family farm, of which 50ha are planted to Hass, 15ha to the dwarf Gem variety, and 60ha to green-skin varieties such as Fuerte and Pinkerton. But Twycross will eventually replace all of the green-skin varieties with Gem due to the benefits of dwarf trees.
The black-skinned Hass is the most popular avocado variety globally, making up 90% of exports worldwide. However, this also results in a glut in the market during peak season, when both South Africa and Peru send fruit simultaneously to Europe, South Africa's largest export market. Local producers then see prices reduce drastically while they are marketing the bulk of their harvest.
It was with this in mind that the Gem variety was brought to South Africa by Westfalia Fruit, as it is a black-skin variety that can compete with Hass, but comes into production later in the year, bypassing the glut in the market. It also has the added advantage of being a dwarf tree, which is a more manageable size and costs less to prune, harvest and spray.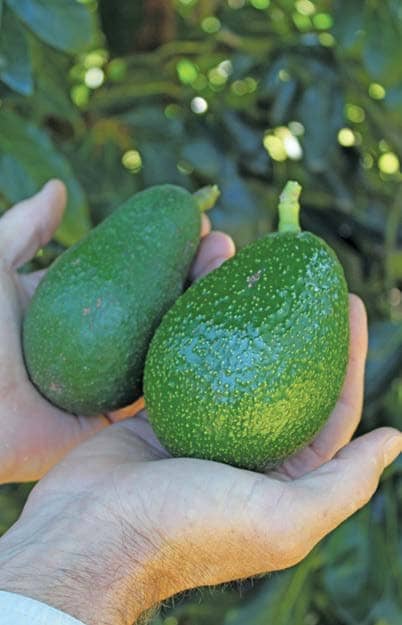 SMALLER TREES, FEWER PROBLEMS
According to Dunshea, the main drawback of the popular Hass variety is its voracious growth.
"Keeping big trees pruned back requires a huge amount of labour. Dwarf varieties, on the other hand, are slow growers and hardly need to be pruned, only necessitating the removal of small branches that can be left in the orchard to mulch. Other varieties require bigger machinery to prune and a chipper to turn the branches into mulch."
The dwarf size also makes the harvest shorter in duration, as well as easier to carry out.
"Because the Hass trees reach up to 6m, workers need a ladder to get to the top branches, making the whole harvesting process so much longer. With the dwarf trees, the workers just stretch into the tree and can harvest 20t of avocados in four hours. It takes a day-and-a-half to harvest the same quantity of Hass or green-skin avocados."
You can read up to 3 premium stories before you subscribe to Magzter GOLD
Log in, if you are already a subscriber
Get unlimited access to thousands of curated premium stories, newspapers and 5,000+ magazines
READ THE ENTIRE ISSUE
June 7, 2019