Sweet harmony
In addition to providing my solitary mare with companionship, my donkey has brought a new tranquility to my farm.
My half-Arabian mare, Sally, has appeared in the pages of EQUUS half a dozen times over the years. I've described a memorable trail ride, offered tips I learned while creating a dry lot for her, and shared how I came to appreciate Sally as my "second once-in-a-lifetime" horse.
Later, in "The Power of One" (EQUUS 469), which I wrote after my old gelding died, I described how my search for a new companion for Sally petered out because I eventually realized she seemed content living alone. I kept her busy, allowing her to socialize with other horses at trail rides and shows, and for years she was relaxed and happy.
Then came our Very Bad Day at a horse show ("Lesson Learned," Back Page, EQUUS 488), when my normally unflappable mare had a complete bucking, spinning meltdown in the warm-up arena. I can only guess at the reasons behind that incident---but I strongly suspected it had something to do with her not wanting to be separated from my friend's horseback at the trailer area. It was time to reexamine my belief that Sally was happy living alone.
When I'd explored my options the first time around, I'd decided against taking on another horse. With my busy schedule, it can be difficult to find the time to ride just one horse, and I didn't want the added burden of caring for another. I'd considered getting a goat or another companion animal but never found a good fit.
As I renewed my search for a companion for Sally, I wasn't sure where it would take me. And at first it seemed unlikely that I would find the right companion for her.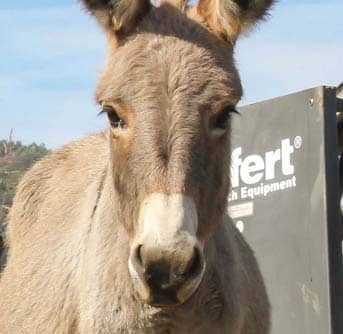 You can read up to 3 premium stories before you subscribe to Magzter GOLD
Log in, if you are already a subscriber
Get unlimited access to thousands of curated premium stories, newspapers and 5,000+ magazines
READ THE ENTIRE ISSUE
Autumn 2020