Strategies For Stopping Thieves
If it's on your farm, and it can be sold for money, someone would like to steal it. Here's what you can do to protect your horses and your property.
Here's a question I wish more horse owners would think about seriously: Which items on your farm are likely to attract thieves? Your horses? Your tack? Your vehicles? Your hay? The answer, of course, is "all of the above" and more.
We've all heard about the "classic" scenario, where someone cuts through a pasture fence and leads the horses away. That's dreadful enough, but it's just one of many types of theft I hear about these days. As founder of Stolen Horse International, a nonprofit group that offers resources to help people recover horses who have been lost, stolen or gone missing for any reason, I've learned one universal truth: If it's on your farm, and it can be sold for money, someone will try to steal it.
Recovering missing horses and other stolen property can be difficult, if not impossible. But for most of us the concern regarding expensive tack, vehicles and equipment pales compared to the anguish that would come from not knowing where our beloved horses are---and fearing the worst.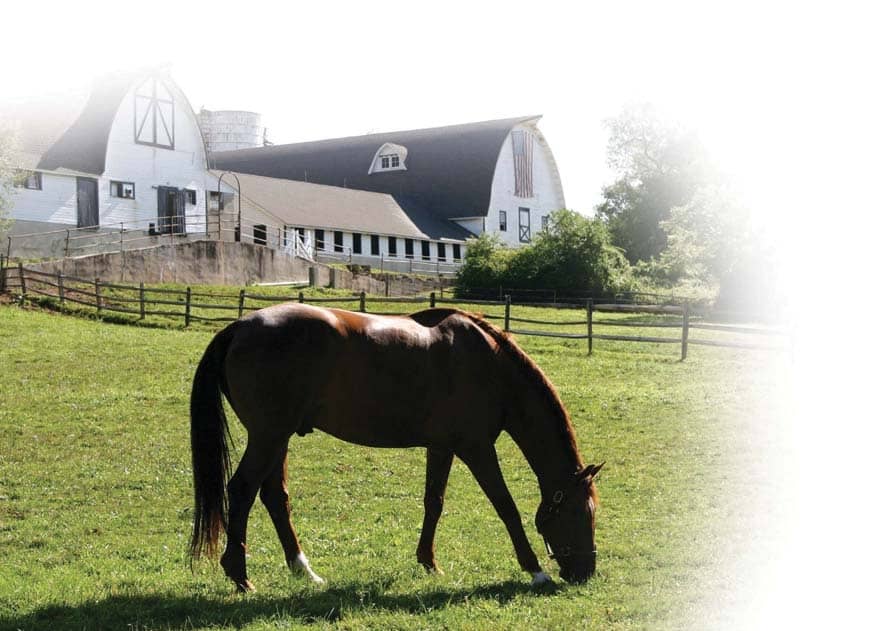 Far better to take some basic steps to reduce the risk that these crimes will occur. No farm can be completely theft-proof ---determined professional criminals can get past just about any barrier. But you don't want to make it too easy for them, either. Any steps you can take to deter the opportunists may be enough to make the difference. Here are my suggestions for protecting your horses, property and gear from thieves.
5 WAYS TO PROTECT YOUR HORSE
Don't make it easy to catch him. Leave halters off horses turned out in pastures and paddocks, and do not hang halters on the stall door or a convenient gatepost. Instead, keep them out of sight, preferably in a locked tack room.
• Avoid feeding or giving your horses treats near the gate. Horses will congregate near feeding areas, and if they are used to coming to the gate to greet people, it will be easier for thieves to catch and load them.
Sure, you don't want to trek all the way across the pasture to fill a hay feeder, but what's convenient for you is also convenient for the thief.
• Permanently identify your horses. Brands and tattoos are time-tested methods of marking a horse for identification; if you go this route, make sure you take close-up photos of the marks for your records, and register them with any relevant databases. A microchip, implanted in the neck, is one of the best ways to connect a horse with his owner---just make sure you keep your contact information in the national database up-to-date with your current phone numbers. It may also be helpful to post signs at gates and key areas around your property announcing that your horses are marked with permanent ID.
• Keep your fencing secure. Horses who escape their pastures on their own can meet a bad end in many ways, including this: If an unscrupulous person is the first to find the wanderers, he or she may sell the horses instead of returning them to you. If you don't have one already, you might also consider installing a perimeter fence around your property, outside of your pasture fences. That way, if a horse escapes from a turnout or stall, he will still be contained on the premises.
• Plant natural barriers. Does a distant pasture fence run along a little-used back road? Planting a hedge of native shrubs or other dense foliage along your property line will make it harder for potential thieves to park a truck and cut through the fence. Bonus points if you plant sharp-leaved hollies or thorny plants native to your region.
9 WAYS TO SECURE YOUR BARN AND PROPERTY
• Block off property access points. Install gates on driveways or drivable tracts that lead onto your property, especially ones that provide access to remote parts of larger pastures. Keeps gates locked. Your options range from simple chains and padlocks to electronic systems. If you install a keypad, make sure you share the code with the local fire department; some systems have features that will automatically open for the fire department and other emergency first responders.
• Lock everything. Install good-quality door locks, and secure your tack and feed rooms as well as any sheds or other storage areas where you keep hay, tractors or valuable equipment. Also secure vents, skylights, air conditioners and windows that can be used to access your buildings or vehicles.
You can read up to 3 premium stories before you subscribe to Magzter GOLD
Log in, if you are already a subscriber
Get unlimited access to thousands of curated premium stories, newspapers and 5,000+ magazines
READ THE ENTIRE ISSUE
Winter 2019