Choke
The risk for developing a blockage of the esophagus is higher in winter. Here's what you need to know to protect your horse.
Unlike choking in people, which can lead to suffocation within minutes, choke in horses is more of a slow-motion disaster. A blockage of the esophagus rather than the airway, choke occurs when a horse tries to ingest inadequately chewed feed, a large chunk of carrot or something else he cannot swallow properly. Choke does not inhibit a horse's breathing but it can be so unpleasant that he becomes anxious or panicky, and if the blockage persists the resulting esophageal damage may seriously compromise his health in the long run.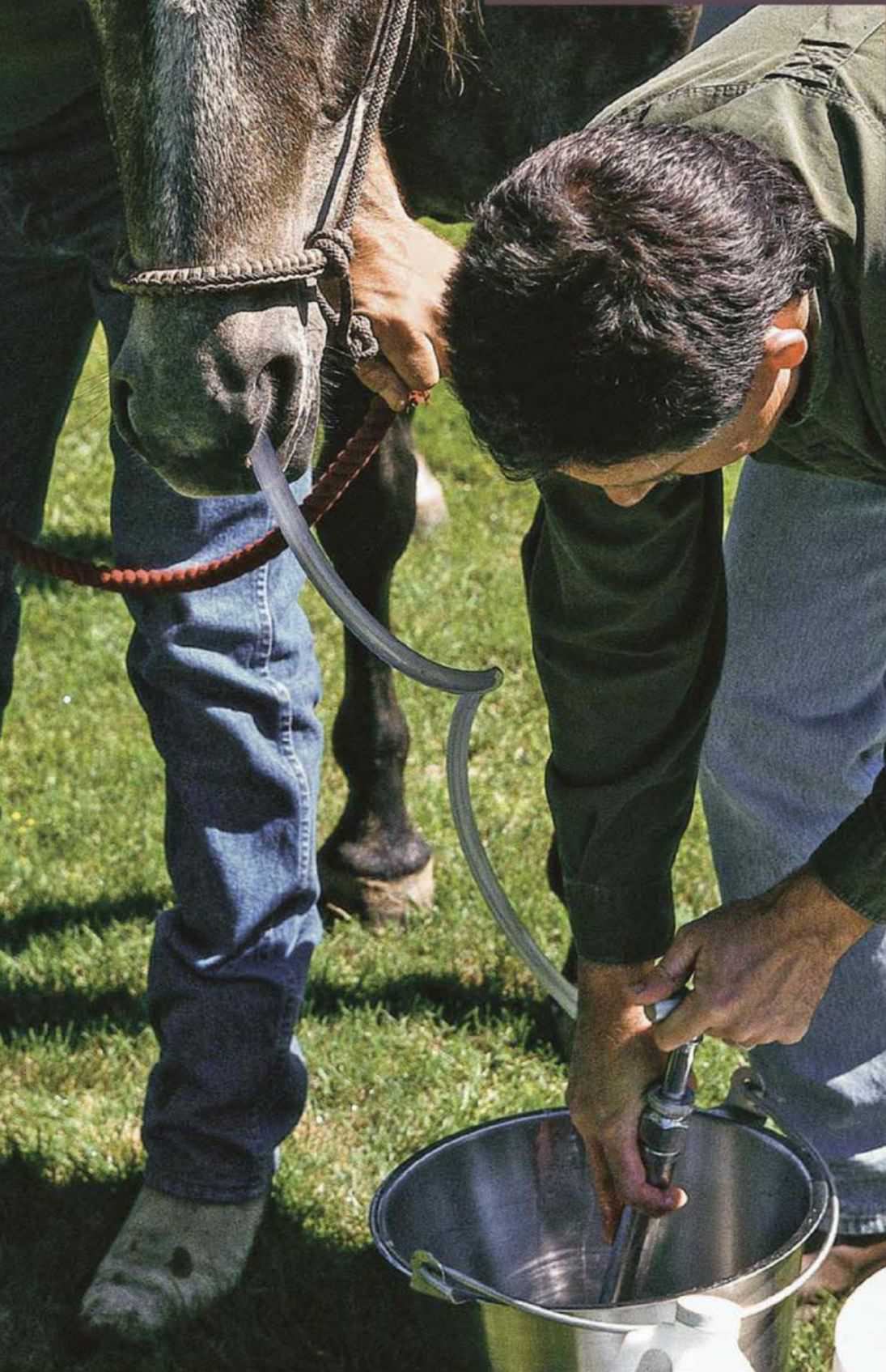 Fortunately, most episodes of choke clear on their own. Even as he strains to relieve the blockage by stretching out his neck and coughing, a horse continues to produce saliva, which lubricates the esophagus and may eventually enable the mass to pass to the stomach. It's a good idea to call a veterinarian anyway. A full examination can reveal potential physical causes, such as a growth or swelling in the neck or dental abnormalities, and an endoscopy may be needed to detect any injury to the esophagus. Your veterinarian may also help you identify management changes that can reduce the risk of future episodes.
If the blockage remains, the veterinarian can do several things to address the problem. After performing an examination on the horse to determine the exact location and size of the blockage, the veterinarian is likely to administer a sedative, both to relax the horse and to encourage him to lower his head and ease the muscles that are constricting the bolus. This alone is often enough to take care of the problem. If it doesn't, the next step may be to insert a nasogastric tube and patiently flush the mass with warm water, a process that sometimes requires many gallons. The veterinarian may siphon the water back off in hopes of drawing some of the chewed feed out with it, repeating until the remaining mass is small enough to pass. In addition, the hormone oxytocin, which encourages smooth muscle relaxation, or the colic medication Buscopan, which can relax a portion of the esophagus, may be administered.
If these efforts fail, the horse may need to go to the hospital to undergo a procedure under general anesthesia. The blockage may be freed using an endoscopic tool inserted down the esophagus. In rare cases, surgery may be required to remove the mass.
You can read up to 3 premium stories before you subscribe to Magzter GOLD
Log in, if you are already a subscriber
Get unlimited access to thousands of curated premium stories, newspapers and 5,000+ magazines
READ THE ENTIRE ISSUE
February 2018