BIRDS IN THE BARN?
Birds nesting in your barn present a dilemma. Yes, they can be noisy, destructive and messy, but birds help keep the insect population under control and contribute to a balanced ecosystem around your farm.
Christine Barakat with Melinda Freckleton, DVM
Before deciding whether to try to evict birds from your barn, do a bit of research on the species. Swallows, for instance, eat so many insects they are worth the mess they may make. And if you have a barn owl, do whatever you can to encourage him to stay and hunt mice. Some species of birds may be protected by federal or local statutes, particularly when they are nesting.
The most effective tactic for thwarting unwanted birds is to disturb their nests as they are building them. If you notice birds coming in and out of the barn frequently with twigs or horsehair, follow them to find out where they are going. If you can dismantle the in-progress nest a few times, the birds may give up and find another place to build. You can also try deterrents like spikes for rafters or wire over eaves, but most bird species are very good at working around these.
If birds have established nests, do your best to shield you and your horse from the mess. If bird droppings are falling into a water bucket, for instance, move the bucket. If a nest is situated above the crossties where you groom, move to the hitching post outside for a few weeks. If you can't make changes like this, you may be able to build a small platform under the nest to catch the mess. There are no specific diseases that are transmitted from birds to horses in North America right now, but the droppings will have unhealthy bacteria.
Many people keep barn cats to reduce nuisance birds, but cats are indiscriminate killers of beneficial and nuisance birds alike. On the other hand, some cats are lazy and may leave birds alone completely.
HELP FOR HIGH-STRUNG HORSES
A nervous horse requires a gentle, empathetic approach. These aren't nasty or resistant horses---they just can't easily settle their minds and relax. Besides being patient with these horses when you are riding or working with them, there are other things you can do to help them stay calm in general. Keep the following management tenets in mind when caring for a nervous horse.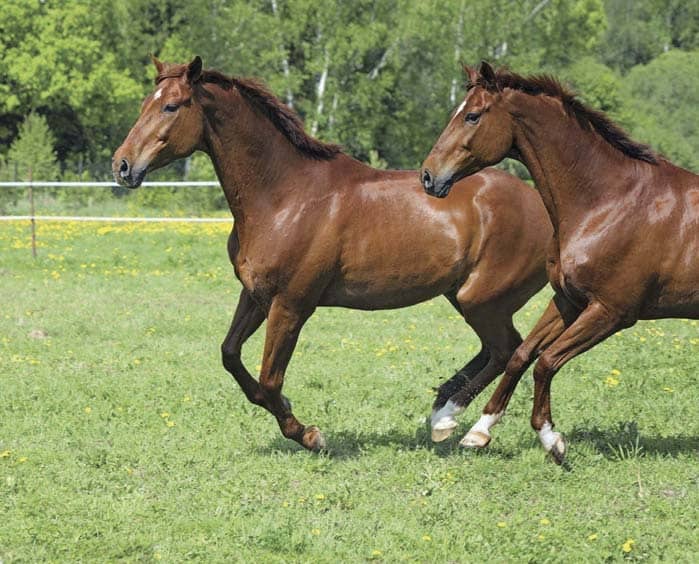 Be prepared to break free from your routine. If a nervous horse knows what to expect throughout the day, he will feel more secure and be better able to relax. Try to feed him at the same time each day, turn him out with the same group and even groom and tack him up in the same order before each ride. If, however, sticking with routine doesn't seem to be in the nervous horse's best interest, be prepared to break it. For instance, if there is construction near his paddock, wait until things settle down before turning him out. Or, if he's seeming extra "buzzy" one day, extend his turnout or riding time to give him an outlet for that energy.
You can read up to 3 premium stories before you subscribe to Magzter GOLD
Log in, if you are already a subscriber
Get unlimited access to thousands of curated premium stories, newspapers and 5,000+ magazines
READ THE ENTIRE ISSUE
Spring 2020