The perfect package
Country Smallholding
|
May 2020
Tim Tyne explains why he has a soft spot for the attractive Hampshire Down, which is simply ideal for small farmers
One of my favourite breeds of sheep is the Hampshire Down. I've had a soft spot for them ever since, as a child on my parents' smallholding in the mid-1980s, I bought my first ram, a Hampshire with the impressive pedigree name of Pockthorpe Colonel. I'd heard about him on the local smallholders' grapevine (which worked just as efficiently as the internet does today!), an aged tup belonging to a shepherd in the next county, and destined for slaughter as he'd outlived his usefulness in a commercial flock. I phoned the chap and made arrangements to go and have a look. By coincidence, on the morning of the day we'd set, I picked up a magazine that my mother had been reading and found an article all about the man I was going to meet. Little did I then realise what far-reaching consequences all this would have on my life.
When we arrived at the farm, at the pre-arranged time, the shepherd was nowhere to be seen. I subsequently learned that it was quite typical for him to be at least an hour late for any appointment. I agreed to buy the ram for what he was worth to kill, and the shepherd, on asking where we lived, immediately offered to deliver him, free of charge, in a day or two. It later transpired that a former girlfriend of his lived in our village.
Having my own ram suddenly elevated my status within the local smallholding community, and before long I was getting requests from other flock owners wanting to bring ewes to run with him. One thing led to another, until I found myself doing quite a few shepherding jobs for the small-scale sheep keepers in the area, and helping out with the communal dipping, which was always a bit of an event.
A few years later I went to work for the chap I'd bought the ram from, who became my close friend and mentor. He had a number of Hampshire ewes at the time, part of his early lambing flock, and I developed a real fondness for them.
The breed is said to have emerged between the 1830s and the 1850s as a result of crossing the Wiltshire Horn, the Berkshire Knot and the Southdown. However, it is perhaps more likely that an intermediate type had previously been developed from the Berkshire/Wiltshire cross, as the Berkshire Knot was already extinct by the mid-1830s.
This intermediate type, when bred to the Southdown, probably resulted in the Hampshire.
At that time the farms of Hampshire consisted primarily of around two thirds arable and one-third pasture, so the breed evolved to be folded over the arable fields, thus greatly improving the soils of the area. As a result, Hampshire Down sheep are very amenable to close confinement such as might today be found in the small paddock-based grazing systems of smallholders.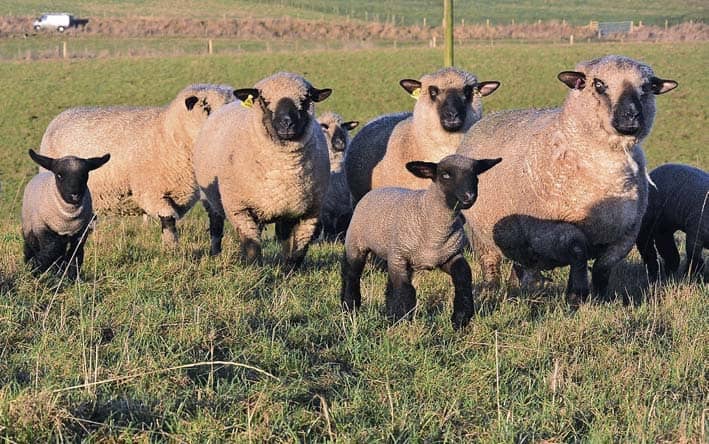 THE BURNHAM FLOCK
You can read up to 3 premium stories before you subscribe to Magzter GOLD
Log in, if you are already a subscriber
Get unlimited access to thousands of curated premium stories, newspapers and 5,000+ magazines
READ THE ENTIRE ISSUE
May 2020