The family silver
Country Smallholding|July 2020
In his series on birds that breed true, Grant Brereton takes a look at the breathtakingly beautiful silver laced pattern, seen mainly in three distinctively different pure breeds
There is little doubting the sheer beauty of silver laced poultry. The sight of black-andwhite patterned fowl — where the feathers are predominantly white, each one surrounded by black edging — is nothing short of breathtaking.
There are three main breeds which display this type of feather plumage: the Poland, the Sebright bantam and the Wyandotte. The earliest of the three to have the silver laced plumage is the Poland (called Polish by some), but they were likely elementary in distinction of markings compared to the striking and imposing Sebrights.
The Silver Laced Wyandotte is the original variety of Wyandotte and was given its name by Fred Houdlette of Massachusetts. Said to be named after a native American tribe, the breed was admitted into the American Standard of Perfection in 1883. It was created by a handful of breeders, each with a similar goal in mind. In its ancestry is a good cross-section of breeds, including Spangled Hamburgs, Dark Brahmas, Polands and Sebright crosses, to name but a few.
The UK has a great history with Silver Laced Wyandottes, thanks to the Spencer family of Warwickshire. Brothers William Allen and Richard Fred Spencer began with American imports in 1886 and by 1890 had improved the clarity of the lacing, which was reinforced by winning the North of England Cup five times, three of which were achieved by a bird that, after its death in 1895, was immortalised through taxidermy. Still in a glass case, this winner is now affectionately referred to as 'The old Gentleman' by Richard Spencer's granddaughter, Margot Hines. The Old Gentleman's grandfather was bred by Walter Beeson of Oxford and purchased by another fancier who wouldn't sell him, so the Spencers rented him for quite a lot of money after the breeding season had ended.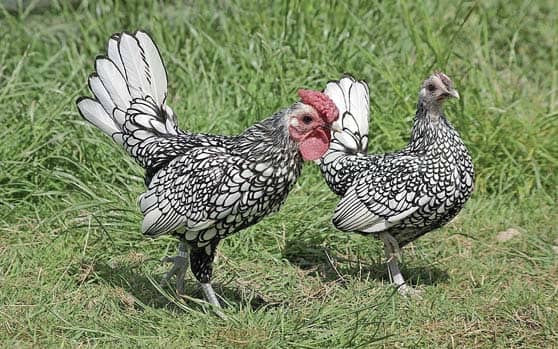 You can read up to 3 premium stories before you subscribe to Magzter GOLD
Log in, if you are already a subscriber
Get unlimited access to thousands of curated premium stories and 5,000+ magazines
READ THE ENTIRE ISSUE
July 2020