Prevention is better than cure
Country Smallholding
|
August 2020
A bespoke health plan can benefit all goat-keepers and their charges, whatever the size of the farm or holding, says vet David Harwood
In the late 1990s developing health plans became a hot topic for vets dealing initially with dairy cows. The fundamental principle was to develop a written veterinary health plan in partnership with the farm staff and other advisors, rather than waiting for problems to arise.
Each plan attempted to predict potential risk areas, including environment, day-to-day management procedures, nutrition, as well as infectious and noninfectious diseases.
It then set out step-by-step instructions to mitigate each risk. The principle rapidly became accepted more widely and was adopted for other animals, such as pigs and sheep.
Recognising its potential value, the farm health plan began to become a requirement in farm assurance schemes such as Red Tractor and RSPCA Freedom Foods. This ensured that food products originated from farms deemed both healthy and welfare compliant.
Health planning within farm assurance schemes is firmly established in the commercial dairy goat sector, but it is equally applicable to any premises on which goats are kept in the UK, whether for pleasure or profit. It underpins the often-quoted statement that prevention is better than cure.
When developing a goat health plan, there is certainly no one-plan fits-all option when one considers the many reasons why we keep them. Such a plan is developed by the owner and vet working together. It should be reviewed at least annually and made available to others who may be helping to care for the goats.
Every plan should be constructed in a manner that ensures all goats on a holding are managed in ways in which they remain healthy and 'free from pain, injury, suffering and disease'. This statement is part of the Animal Welfare Act 2006. The legislation makes owners and keepers legally responsible for ensuring the welfare needs of any kept animals are met to the extent required by good practice. Owners should be familiar with these principles, incorporating them into the health plan if deemed necessary.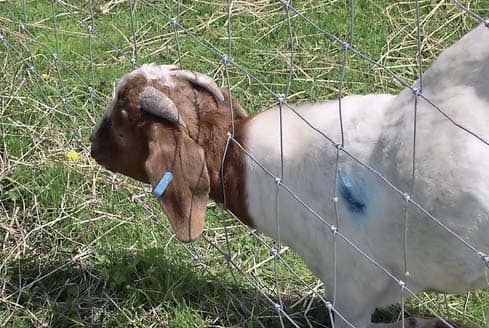 These include the need:
For a suitable environment.
For a suitable diet.
To exhibit normal behaviour patterns.
To be housed with, or apart from, other animals (if applicable).
To be protected from pain, injury, suffering and disease.
A SUITABLE ENVIRONMENT
It is important that goats always have access to shelter as they don't like getting wet. Buildings must provide:
Adequate ventilation without being too cold or draughty.
Plenty of natural light. There should be enough light to enable goat inspection at all times, even if that's provided by electric lights or a torch.
Space to move around — a minimum of 1.75m² per goat.
A dry, clean bed.
Access to food and water.
A goat-proof building.
You can read up to 3 premium stories before you subscribe to Magzter GOLD
Log in, if you are already a subscriber
Get unlimited access to thousands of curated premium stories, newspapers and 5,000+ magazines
READ THE ENTIRE ISSUE
August 2020