Perfect isolation
Country Smallholding|July 2020
Living on a croft in the Outer Hebrides has given young mum Karen Macleod the perfect opportunity to excel at growing her own fruit and veg, as she explains to Chris McCullough, who paid her a visit just before lockdown
With nothing but the bleats of sheep as her background music, and the distinguishable aura of the sea dominating the air, Isle of Lewis crofter Karen Macleod is in her perfect isolated paradise pottering away with her vegetables.
Islanders on the Outer Hebrides know very well what isolation feels like at the best of times, but particularly now when all the tourists have vanished amid the coronavirus pandemic.
While the visitors may have gone, life goes on, and for Karen that means spending time home schooling her three young daughters, Molly, nine, and identical twins Amber and Paige, seven, and retreating to her somewhat "posh greenhouse" where there is already a plethora of fruit and veg colours established.
"We have adapted well to lockdown. We're coping, I think. My husband, John, is self-employed and is working from home half days while I home school our three girls," says a cheery Karen whose other half is a self-employed chartered engineer who runs his own business on the island with his brother.
"After schooling we venture out to our Polycrub, which is a large-scale greenhouse designed to suit our island weather systems."
Food sustainability is very important to Karen and her family, whose 1.5ha croft lies beside Stornoway Airport looking out to the North Sea.
One of the main directions in which Karen wanted to steer her croft development was to produce her own healthy fruit and vegetables, free from any chemicals and grown only with natural fertilisers.
As Karen's croft is very close to the beach and, subject to particularly fierce winds, her main challenge was to find a structure that could defend itself against the gale force winds and yet remain standing. All too often on the isles of Lewis and Harris, polytunnels have been spotted taking flight and landing on a neighbour's property! Thanks to plenty of research, and advice and assistance from SAC Consulting in Stornoway, Karen discovered Polycrub structures as a suitable method of growing her own food.
"It's ideal for growing fruit and vegetables as they are well protected from the elements," she says. "The inside temperature can hover around 30°C, creating a good environment for the crops.
"I grow the produce organically and adopt a no dig policy on the soil, preferring to add my own mulch each time instead. We live right beside the beach where there is plenty of seaweed which we collect and make mulch from.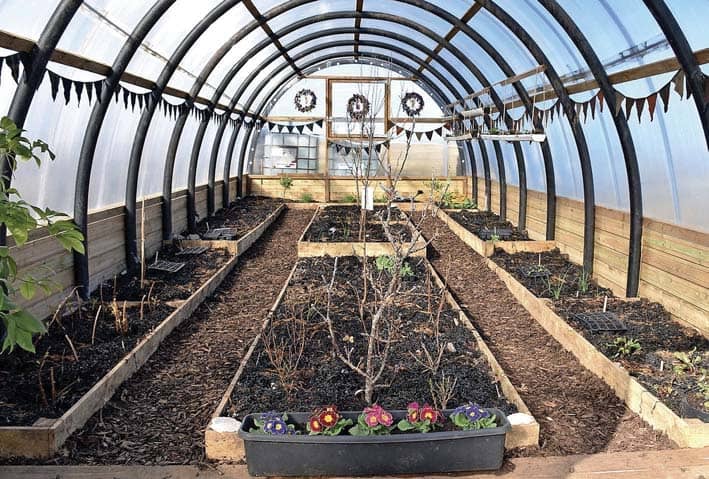 "Incidentally, the no dig policy, which I also practice outdoors on my raised beds, reduces soil erosion as well," she notes. "Using a tunnel extends my growing season and, of course, reduces my food miles."
You can read up to 3 premium stories before you subscribe to Magzter GOLD
Log in, if you are already a subscriber
Get unlimited access to thousands of curated premium stories and 5,000+ magazines
READ THE ENTIRE ISSUE
July 2020