Hownow (brilliant) brown cows!
Country Smallholding|June 2020
For certain smallholdings, Covid-19 has brought welcome growth. The carbon-neutral Hownow Dairy in South Devon is one such firm that has experienced an exponential hike in home deliveries. Catherine Austen reports
Every cloud has a silver lining. Although it would be crass to apply this most trite of clichés to the Covid-19 pandemic, there are flashes of brightness that have broken through the gloom.
Oliver Lee's Hownow Dairy, a two-year-old 'cow-to-cup' organic milk delivery business in South Devon, has exploded in size since the crisis began.
"We doubled the business in a fortnight, and it's still growing," says Oliver, 27. "At the beginning of March we were a growing little business, working hard on gradually increasing awareness and adding 10 new customers a week. Covid-19 came along and, because we went into lockdown, people wanted home deliveries and we had the network.
"The first week we did 25 new deliveries on top of the 275 we already had. The week after we added 200. Now we're at 700."
Oliver admits that he had "a brief panic".
"But I had a five-minute breather, and got on with it — more cows, more grazing, more delivery drivers."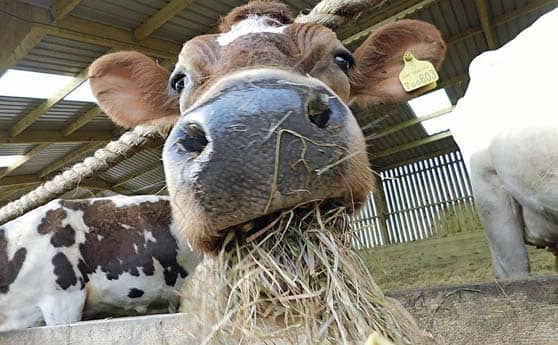 Oliver rents his cows — pedigree Ayrshires — from the man he calls his mentor, Russell Ashford, for whom he worked for four years.
"I rang him and said I needed 10 more cows tomorrow," laughs Oliver, who has 40 acres at Ladywell Farm in South Hams, enough for 40 cows, and he quickly rented another 56 acres from a neighbour.
"We've gone from being just shy of breaking even to being very much profitable in six weeks," says Oliver proudly. "Hopefully, by the end of May, we will owe nothing which, if you think that we only really started last January, is quite something. We've been lucky — we got our break early on, but if this had happened last year, we'd have struggled as we didn't have the infrastructure, the knowhow or the confidence."
As well as the "gorgeous" milk and clotted cream he supplies, Oliver has expanded Hownow Dairy's delivery offerings to include a number of other local fresh food products, such as artisan bread, apple and orange juice, coffee, and eggs.
"We've had a fantastic reaction. People say: 'We're converted, we'll stay with you forever.' I think it would be naïve to expect them all to stay — we're planning for a 50% drop off in new customers — but I don't think we'll lose them all, and even if we drop down to 500 customers a week, we're still profitable at that," he says.
To have achieved such success with a very new business when so young sounds like something of a fairy tale, but, like all good stories, there have been some serious bumps along the path.
Although Ladywell has been in the family for more than 50 years, and Oliver's maternal grandfather, Ted Mitchell, was a dairy farmer here, Oliver, who has two brothers, was born in Scunthorpe. His father is a farmer — but of fish — and they moved around quite a lot, including 18 months spent in Nova Scotia, Canada.
"But we always came to Devon on holiday," says Oliver. "I have a very fond memory of me and granddad, me following him around the farm."
You can read up to 3 premium stories before you subscribe to Magzter GOLD
Log in, if you are already a subscriber
Get unlimited access to thousands of curated premium stories and 5,000+ magazines
READ THE ENTIRE ISSUE
June 2020