Going potty
Country Smallholding
|
August 2020
With the Covid-19 lockdown, growing your own veg is all the rage, but what if you have limited space? Leslie Bliss discovers a whole new world of container crop growing
Months of stay-safestay-home lockdown has made everyone appreciate more than ever how precious it is to have your own outdoor space. With gaps suddenly appearing on supermarket shelves, it isn't surprising that Britain, as a nation of gardeners, has turned to growing its own veg en masse.
I am one of them, an amateur gardener and lapsed veg grower of 10 years. With garden centres shut and a long wait for online orders, it became a challenge of resourcefulness to start again from scratch. The other issue was where to put the plants. As I wanted to keep the lawn and flower borders intact, every corner of the garden and house was scoured for potential planters. A rusty old cast iron wok had a hole drilled in the bottom to grow cut-and-come again salad, while the lid of a broken plastic water butt was also put to use — and it had a hole in the right place. Tomato grow bags were snapped up at Tesco, a set of five large felt bags was bought on eBay and, hey presto, the patio has come alive with greenery that includes runner beans, French beans, various lettuces, curly kale, chard, chilli peppers, tomatoes, cucumber, courgettes, spinach, sprouting broccoli and butternut squash.
It's been interesting to watch their progress and compare how they've fared in different containers and positions. So that begs the question, what are the best containers? After all, the options seem endless: felt, grow bags, plastic, concrete, stone, terracotta, glazed, hanging baskets, Air-Pot containers, guttering, old dustbins, animal feed troughs, wooden crates, barrels, cast iron, hessian sacks and wicker baskets, to name but a few.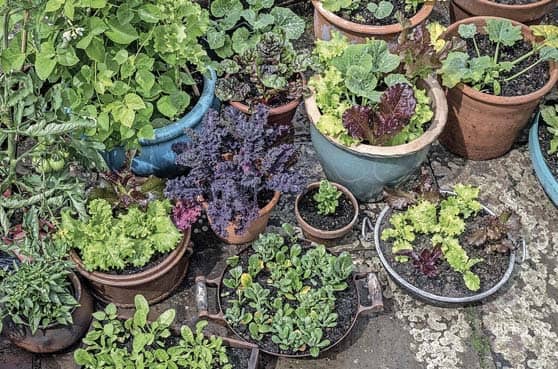 THINK SIZE AND DEPTH
Tom Harris, author of the recently published Pots For All Seasons, points out that it's not about the material: "Size and especially depth are deciding factors in choosing pots for particular veg. Some veg need deep pots with lots of room for roots and water retention, such as courgettes and tomatoes. Leafy salad crops are better in relatively shallow but wide containers. I use a wooden drawer for a mix of cut-and-come-again leaves. Long-term plants, such as dwarf fruit, need containers that aren't only in proportion, but also stable and won't topple in a breeze. Ideally they need to be wider than they are high. It's best if they are equal in width and height. Root crops need good depth and choose varieties that have rounded roots. Chilli peppers will flounder if they are planted in too big a pot."
Tom excels at making everything look beautiful.
"I grow in containers because I love the endless possible combinations of pot and plant, and how, when you get it right, one can significantly enhance the other. The pots I use have to be attractive objects in their own right. I also only grow attractive crops — which is most of them."
You can read up to 3 premium stories before you subscribe to Magzter GOLD
Log in, if you are already a subscriber
Get unlimited access to thousands of curated premium stories, newspapers and 5,000+ magazines
READ THE ENTIRE ISSUE
August 2020