Feeding frenzy
Country Smallholding
|
August 2020
With a vast range available, choosing feed for livestock is never simple. Nutritionists and smallholders give their top tips to Stephanie Bateman to make that selection more straightforward across a raft of species
Just like humans, animals need certain nutrients in order to maintain good health. Each season brings with it different challenges for our livestock and birds and so getting their feeding regime right will help to support them through these times — the cold and the wet of winter and the hot and the dry of summer.
And just as with people, different species of farm animals have wide-ranging and specific feed requirements, from goats, who require a high-fiber diet to remain healthy, to chickens, for whom complete feeds make poultry-keeping easy as essentially their total nutritional intake can be found in one bag. Happy days!
FEEDING SHEEP
"The key to a healthy and productive smallholding flock is down to a successful annual feeding plan," says Heygates' nutritionist Lydia McCarrick. "When deciding a feeding regime, one of the main factors to consider is the influence of the seasons."
SUMMER
The target for the summer period should be for the flock to enter the autumn mating period with adequate fat cover to achieve optimum fertility, but high temperatures and low rainfall have probably led to a reduction in grass growth and nutritional quality.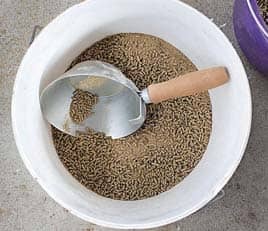 "For this scenario a highquality conserved forage and/or a high-energy compound feed can be offered to supplement grazing," advises Lydia. "We recommend a high-energy lamb finisher diet, such as Heygates Hogget Nuts."
AUTUMN
Autumn, when mating or 'tupping' occurs, means fertility should be the focus for feeding.
"For ewes, a practice called 'flushing', whereby the nutrient density of the diet is increased, is often used to improve fertility," explains Lydia. "Effective feeding practices include offering good quality grazing and increasing compound feed.
"For rams, mating is an active time and they can lose up to 15% of their bodyweight. A high-energy feed, such as a lamb finisher nut or a coarse mix, will prevent significant weight loss and a reduction in fertility."
WINTER
"Significant changes to the ewe's diet can be detrimental to foetal survival," says Lydia. "Therefore, if hard feed was offered during mating, this should be continued for at least one month afterwards. From two months onwards, if ewes can maintain condition on forage alone, then supplementary feed may not be required.
For rams this time can be used to start replenishing fat stores. "Offering access to good quality grazing and high-energy supplementary feed, such as Heygates' Ram & Lamb Coarse Mix, will help with this."
SPRING
Lambing is probably the most important period of the year. "To support foetal development a tailored ewe compound feed should be offered from at least six weeks prior to the expected lambing date," says Lydia. "This is because 70% of foetal growth occurs during this period. Ewes should also continue to receive hard feed up to at least four weeks following lambing to support milk production and lamb growth." For more information, visit www.heygatesfeeds.co.uk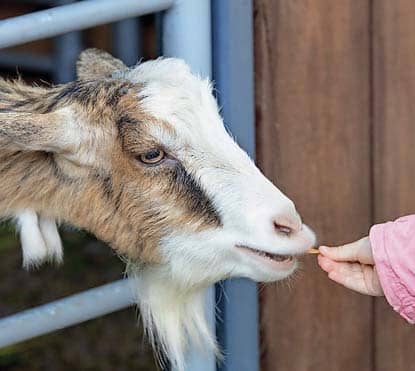 FEEDING GOATS
Goats require a balanced, high-quality diet to remain healthy and produce meat, milk and fibre.
You can read up to 3 premium stories before you subscribe to Magzter GOLD
Log in, if you are already a subscriber
Get unlimited access to thousands of curated premium stories, newspapers and 5,000+ magazines
READ THE ENTIRE ISSUE
August 2020