Courting popularity
Country Smallholding|June 2020
Tim Tyne looks at two Welsh breeds of sheep — the Lleyn and the Llanwenog — neither of which is particularly easy to pronounce, but both of which are equally deserving of plaudits
Despite differing in appearance and history, the Lleyn and the Llanwenog breeds of sheep are very similar in capability, although while one — the Lleyn — has attracted the attention of commercial sheep producers, the other — the Llanwenog — has not. I often wonder why, as I feel that they are equally deserving of popularity.
Lleyn sheep
Lleyn sheep are the local breed of the area where I live, namely the Llyn Peninsular in North West Wales. Although I've never kept them myself (as I favour another native type of sheep — the Welsh Mountain), I have worked with some of the leading flocks, so I'm fairly familiar with the breed.
Over the past couple of decades the Lleyn sheep has risen from the ashes to become one of the most numerous purebred commercial sheep in the UK for one simple reason: it does what it says on the tin! There is nothing flashy or pretentious about the Lleyn, just good solid genetics that make it a suitable breed for a wide range of farming systems. The characteristics that have made the Lleyn so popular with commercial farmers are equally highly valued by smallscale producers, meaning that the breed is now found in flocks ranging in size from just a few ewes to several thousand, ably supported by an enthusiastic and progressive breed society.
The breed appears to have originated as a result of importations of Galway and Roscommon sheep (descended from the famous Dishley Leicesters developed by Robert Bakewell and exported to Ireland in the late 1700s) to the Llyn Peninsular from Ireland at the beginning of the 19th century. These would undoubtedly have been crossed with the existing (and now extinct) Rhiw breed, leading to the development of the Lleyn as a distinctive local type. Interestingly, Lleyns were subsequently exported to Ireland in 1976 for the purpose of improving the Galway sheep. What goes around comes around, it seems!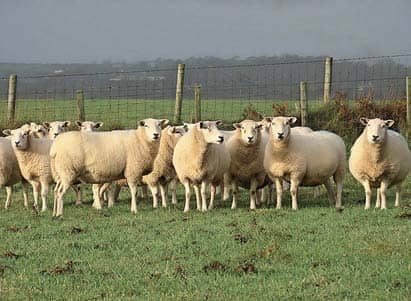 Despite its strong local following, the newly-formed Lleyn breed remained geographically restricted for many years. The outbreak of World War II further restricted development of the breed due to the compulsory ploughing of grazing land, and also due to the priority that was given to dairy cattle in the area as a result of the formation of South Caernarfon Creameries at around the same time. By 1960 the Lleyn was classified as rare, with less than 500 ewes in existence.
You can read up to 3 premium stories before you subscribe to Magzter GOLD
Log in, if you are already a subscriber
Get unlimited access to thousands of curated premium stories and 5,000+ magazines
READ THE ENTIRE ISSUE
June 2020