Queens Candilee Jackson Choose the Strangest Delivery Spots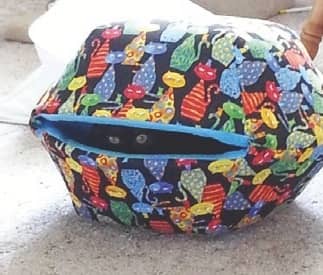 I remember well the first litter of kittens I birthed on my own. I was excited to finally have kittens to show under my new cattery name, Pawdancer. At the same time, I felt like the fictional Prissy from Margaret Mitchell's novel, Gone With The Wind and her famous quote, "But Miss Scarlett, I don' know nothin' 'bout birthin' no babies!" I read everything I could lay my hands on, visited my vet at least ten times during the final week or so (the office staff finally just waved me into an exam room without getting my charts), consulted with my mentors and non-mentors, laid in enough birthing supplies for a small army and as the "watch" date approached, I consulted the calendar at least five times a day. I fixed up a toddler's playpen with two soft, washable beds—one for delivery and one for after delivery, food and water dishes, litter box and covered the removeable plywood top (painted baby pink) and mesh of the playpen with warm pink fleece. All was ready. The only thing I DID NOT prepare for was Jazzlynn, my mother-to-be. While I really did not know Jazzy's thoughts on all this preparation, her inscrutable eyes, half-closed in thought, watched the process and a little smirk crossed her muzzle. Little did I realize she had made plans of her own.
Panic ensued when we were several days beyond the magic day of sixty-five, and nothing had happened. I was sure Jazzlynn had faked me out—she was not really pregnant, but had actually swallowed a volleyball. Finally, on Day 69, the miracle happened, but not in the beautiful little pink nursery I had prepped for her and her coming kindle. I was reading in bed, with Jazzy snuggled against my leg. The next thing I knew, I heard mewling and my leg was wet—the birthing had begun! I quickly took care of the little one and put it in a makeshift incubator (microwave warmer in a small, sanitized litter box, covered with a hand-towel) and then moved Jazzy to her nursery. She was having none of it, and quickly moved back to the bed. This back-and-forth process continued until each of her four babies were born in our bed.
According to the textbooks, advice and admonitions from everyone and everything, planning ahead was supposed to be the primary step in the birthing process, and although this had occurred, kitty mommies have a mind and will of their own. Consulting the many cat folks in the CFA and breed Facebook groups, I collected nearly a ream of advice and stories on just where the best place was for a cat to have her babies. The stories ranged from strict rules of the process to whimsical fantasies of what SHOULD have happened but did not.
Dot-Dot-Dot Cattery, owned by Roger and Nancy Brown of Elkhorn, Nebraska, has a system that works well: a tall cage with no shelf is prepared for their Ocicat mommies. The cage has triangle-shaped "breaks" for mom to get away from her kids for a little time out. As the kits age, the shelves become larger and higher. Nancy shared a quick statement of her most unusual delivery—the site was the cat tree—but did not go into detail.
Cattery owners with separate rooms in their home for their cattery, birthing and/or kittens seem to have the best and most practical arrangements of those who responded to the queening query. Robert Jewell of Kernewek Cornish Rex Cattery in Marietta, Georgia, stated, "We have a sequestered birthing room, so we try to avoid giving them (the queens) a choice". Because the room is sequestered, there is not much chance mommy will move her babies. Bob did share that the most unusual place one of his mom cat had had her kittens was, "on my lap inside my Honda Element on the way to Gatlinburg, Tennessee!"
Several breeders stated they use a variety of queening places. A queening cardboard box, Sturdi show shelter popup tents and large metal dog crates were among the favorites. Everyone agreed the birthing place should be warm, quiet and secluded, especially for the birth itself and for the first few weeks following.
A number of breeders prefer the queening area to be in their bedroom. Andy Valles stated, "They (the queens) deliver in our master bedroom so we can be there and keep an eye on them." Pelagita Cattery's Susan MacArthur of Pleasantville, Ohio, stated, "They have an enclosure on my side of the bed in my master bedroom. They are there for the first five to eight weeks before I move them to the cat room."
You can read upto 3 premium stories before you subscribe to Magzter GOLD
Log-in, if you are already a subscriber
Get unlimited access to thousands of curated premium stories and 5,000+ magazines
READ THE ENTIRE ISSUE
April 2020