My First Cat
First Cats. We all have that special very first cat—the one that we had as a child, or perhaps the first one when we had a home of our own. Maybe one found us, and we hadn't realized that we needed a cat until then. Or perhaps this special cat was a first rescue, first pedigreed cat or first show cat. These are the stories of some of those special cats.
Pepper
The Story of a Little Black Heart Cat
Linda Massey
Born to a sweet little black barn cat on Easter Sunday, April 15, 1990, and orphaned at ten days old, Pepper had a rough start in life. I received Pepper when she was three weeks old and she had many upper respiratory issues for the first few weeks. Plus, there was the fact that I had never bottle-raised a kitten before. We had many a vet visit, and I memorized my vets' phone number because of my frequent questions about things such as: "How often does a kitten poop? Why does she have the hiccups after I bottle-feed her? Do you "burp" kittens?"
But Pepper was a fighter and pulled through those rough weeks despite my well-intentioned, bumbling ineptitude. At first, I was only going to nurse her until she was big enough to go back to the barn where she was born. However, I bonded to her far deeper than I ever believed possible. She was not going anyplace.
Pepper was the sweetest little kitten! She loved to lie in my arms like a baby and have her tummy tickled. She would fall asleep tucked against my belly, under my T-shirt, when I typed at the computer. Sadly, she often would cry out in terror just as she was falling asleep. I'm sure she had nightmares of being left all alone and cold in the hayloft of the barn.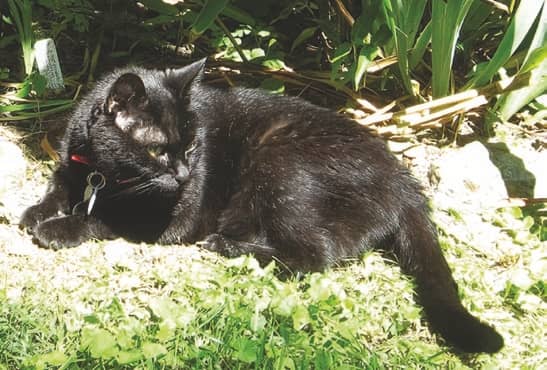 Kittens need LOTS of play time. I had a fifteen-year-old rescued barn kitty, Moxie, who was NOT impressed nor pleased at this little interloper. Pepper quickly learned to leave that nasty, hissing kitty alone and, instead, made mincemeat of my ankles since she had no other playmate. So, I adopted a little lynx point Siamese mix from my vets' office as a playmate. Now I had Pepper and Spice. Spice was the first kitten that Pepper had ever seen, and she was fascinated. It was just a matter of minutes before the two of them were exploring, climbing and curling together to nap.
My husband insisted that kitties needed to be outside, so I allowed the kittens outside, under STRICT supervision. Yet accidents happen. At twelve weeks old, Pepper attempted to climb a fir tree. The bark gave way under her claws and she fell, landing on her left hip and breaking her left back leg. Luckily, the break was not all the way through, and the vet simply set it with a splint. I felt as if someone had stabbed me through the heart, seeing my precious Pepper in that splint. For five weeks she hobbled about the house, dragging a splint nearly as big as she was. Her leg healed perfectly, and other than a bit of a swagger to her walk, which reminded me of John Wayne's signature saunter, she was back to normal.
You can read upto 3 premium stories before you subscribe to Magzter GOLD
Log-in, if you are already a subscriber
Get unlimited access to thousands of curated premium stories and 5,000+ magazines
READ THE ENTIRE ISSUE
April 2020