Living With Covid-19 CFA Style
Cat Talk|June 2020
We're offering this story for free to read so that you can stay updated on the COVID-19 outbreak
As a retired teacher, this writer is amazed at the change in sentiment and the growth of generosity among both businesses and individuals.
Major corporations are offering free Internet and Wifi as teaching tools for elementary-age students, famous personalities are reading books online in the image of Reading Rainbow, and other creative people are offering Master Classes in every one of the arts. Many more private citizens are thinking outside the box, helping others, stepping up to the plate to tackle something new, different or difficult. So many exciting things are happening all around us.
Cat fancy folks are part of this novel resurgence of "I am my brother's keeper" as they find creative ways to be of service. Among those serving in a time of need, of course, are those whose vocation is the medical field: nurses, doctors, respiratory therapists, physical therapists, and more. Others are working with school districts to prepare lunches for children in need of daily sustenance, many with college degrees are volunteering to tutor in areas where parents find themselves at a loss as they homeschool their children. Others are doing what they can to help relieve the shortage of PPEs (personal protective equipment) such as masks, face shields, and protective gowns.
On the Front Lines Rhonda Smith, MSN, RN, CNOR is a third-shift RN in a busy Level 1 Trauma hospital in Charlotte, North Carolina, working in the operating room as either the charge nurse or circulating among trauma and liver transplant cases. "Our PPE situation has been okay thanks to the quick action of our hospital in conservation implementation. I am fortunate I do not have to wear my own scrubs since I work in the OR, so I do not worry about bringing germs into my home from my work clothes. I am extra vigilant about wiping down the charge desk and we limit traffic into the area. Our unit also rearranged tables in the lounge to help assist in social distancing." Rhonda continued, "I'm used to always wearing a surgical mask (since I work in surgery) so it has not been an issue of discomfort for me or anyone I work with. That said, the N95s (masks) are not comfortable for my coworkers during potential COVID positive cases. At night, we assume all patients are potentially positive. So, often these masks are worn Each generation has something catastrophic which defines it … landmark events and sayings that went with them. "Remember the Maine," the Titanic, World War I, the Jazz Age, the Great Depression, World War II, Korea and Vietnam, the Great Recession and AIDS in the 80s, Ebola, H1N1, earthquakes and hurricanes as we moved into the 21st Century.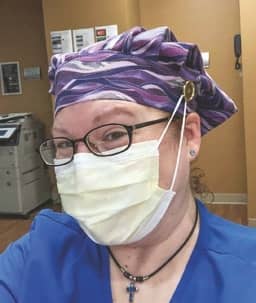 You can read up to 3 premium stories before you subscribe to Magzter GOLD
Log in, if you are already a subscriber
Get unlimited access to thousands of curated premium stories and 5,000+ magazines
READ THE ENTIRE ISSUE
June 2020