Love Actually
Buddy Life
|
January - March 2018
Race 3 actor daisy shah looks like she's having the best time of her life with this cute little Chihuahua Blessy. and there's another cutie hanging around her Mumbai pad these days – and that's rescue dog Kiki.
The super gorgeous Daisy Shah has everything we want - not only does she have a dream job and a fit body to die for, she's also working opposite Bollywood hot property Salman Khan in Race 3! If this wasn't enough to make a girl jealous, she's also got two of the cutest dogs we've ever seen. Like, ever. We know she looks amazing in her chic ensemble, but it's her pet pooch that we can't stop staring at. And she isn't just pretty - she has a pretty big heart, too! Even as she sits glued to her Chihuahua pooch, Blessy, we know she has adopted a homeless four-legged whom she's lovingly named Kiki. Really, Ms Shah, your already sky-high babe rating just shot up several points, thanks to your generosity and a heaping dose of puppy love. If you ever need anyone to dog-sit, we're available. Here, she bares her heart to R. Mouli Roy talking about her love for dogs, their favorite pastime and how she juggles her time in spite of her busy schedule.
We know you are a dog lover, but were you always like this? Or is it a recent liking to the four-legged?
This is definitely not a recent liking. I have always been like this. My father was a dog lover and we had around 10 to 12 pets in our house. I was born in a house full of dogs and this is how I developed this liking towards them.
Why do you love dogs? what is that one thing about the furballs you love the most?
All animals are innocent and dogs are the most adorable creatures on earth. I think they are the most loyal and genuine animals one can have as pets. No matter how bad their owner is, their love for their owner never decreases. The unconditional love they have for their owner is definitely amazing. They are that companion of yours who would stay with you through every thick and thin of your life.
Big or small, which dog breeds do you prefer and why?
As of now, it has to be small ones, because I have a flat in Mumbai. Staying in a flat and keeping a big dog is really difficult. But I would definitely love to have big dogs some day when I own a big farmhouse. There is no particular liking towards any breed; I love all kinds of dogs. Be it big, small, foreign, Indian, street and so on.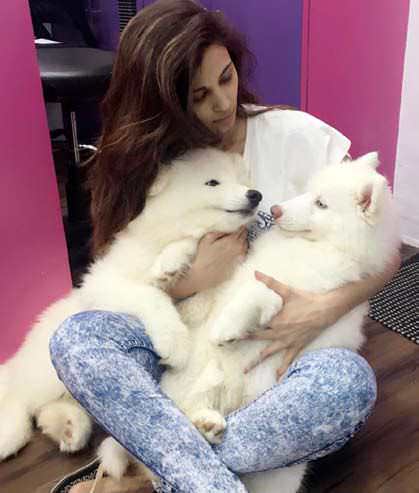 How many dogs do you have and tell us the stories behind their names?
You can read up to 3 premium stories before you subscribe to Magzter GOLD
Log in, if you are already a subscriber
Get unlimited access to thousands of curated premium stories, newspapers and 5,000+ magazines
READ THE ENTIRE ISSUE
January - March 2018