Celebrating 25 Years Animaltalk
Animaltalk Magazine
|
October 2019
Taking a trip down memory lane
With so much happening over the last 25 years – not only in our country, but also worldwide – we often look back to 1994, which also happens to be when Animaltalk magazine was launched! Paging through old copies caused a giggle here – and a gasp there – but overall, we're in awe of how far we've come. While many pet ownership ideas have changed, some of the basics have stayed the same, and we even went through a few crazes that were highly fashionable at the time.
Over the past 25 years, Animaltalk has been there to guide, positively influence and educate people to be responsible pet owners, and to build stronger bonds with their pets.
We've worked with experts in their fields, such as veterinarians, behaviourists, nutritionists, the South African Veterinary Association and reputable breeders, to provide you – our valued readers – with information that you can trust. Always putting the animals' welfare first.
On a mission
From the start, we took a stand against various aspects of animal cruelty. The one project that stands out the most is the plight to ban fireworks. Besides the articles printed in the magazine, the Animaltalk team took it further and gathered 249,000 signatures in protest of fireworks. This resulted in municipal by-law changes. The fireworks petition was handed over to the Safety and Security Deputy Minister at the time – Joe Matthews – on 6 August 1996, and a task group was formed by the National Animal Talk Forum, to put together legislation to be tabled the next year.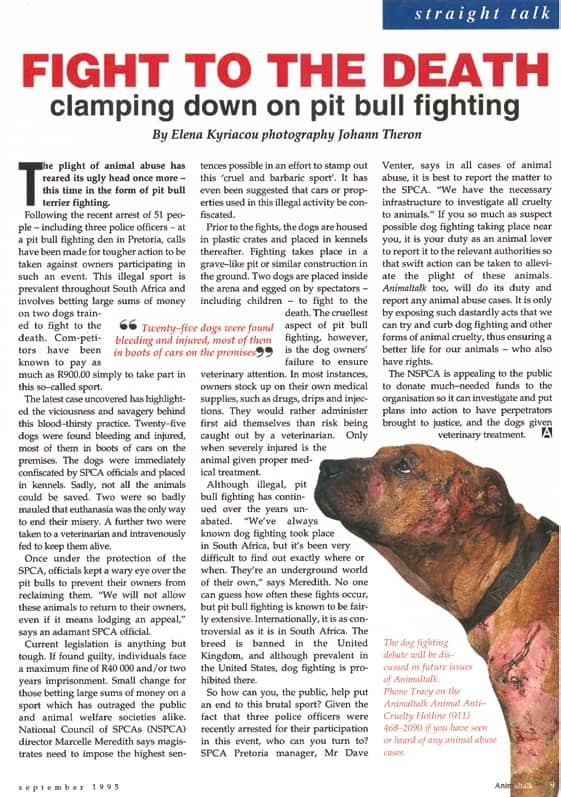 Another issue on our agenda has been Pit Bull fighting and we have taken a stand against this brutal sport since the inception of the magazine. We reported on it and highlighted how small the penalties are, compared to how much the animals suffer. Today, the sport is unfortunately still taking place, although hopefully on a lesser scale, and continues to form part of wider criminal networks. The battle against Pit Bull fighting rages on.
Greyhound racing has been another controversial issue over the years. In 1995, there was a drive to lift the ban on the 'sport', and those lobbying for it advocated that it would be in the dogs' best interest to legalise the racing. Even the Lotteries and Gambling Board was against it, as no evidence could be found to prove the positive effects. On the contrary, it was clear how the dogs suffer from an early age under harsh training methods, and if the dogs didn't perform well, they would be put down.
In 2014, there was another drive to legalise Greyhound racing in South Africa, but thankfully the government stated that it remains illegal and punishable.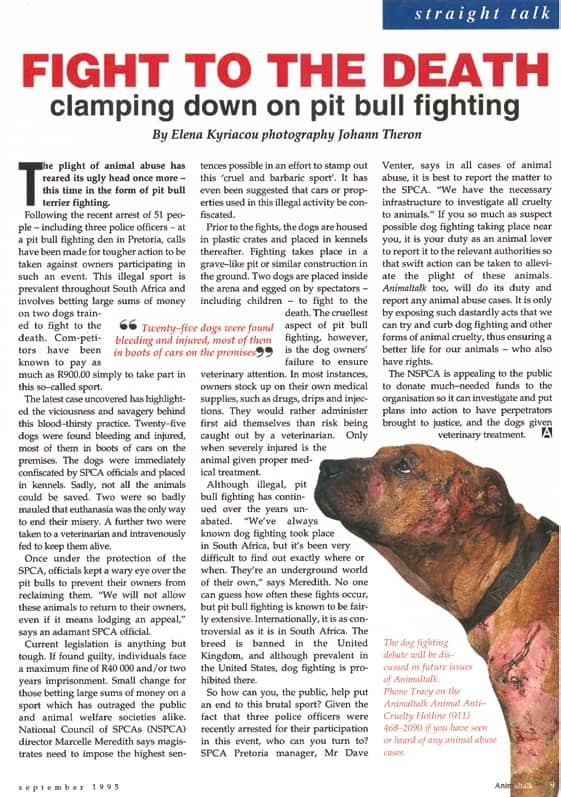 You can read up to 3 premium stories before you subscribe to Magzter GOLD
Log in, if you are already a subscriber
Get unlimited access to thousands of curated premium stories, newspapers and 5,000+ magazines
READ THE ENTIRE ISSUE
October 2019